Last Updated: 13 October 2021
z/VM Continuous Delivery Information
z/VM continuous delivery model at a glance
A new z/VM release every two years (September of even-numbered years).
There are always at least two z/VM releases supported at all times. Three for about six months after the GA of a new release.
Most new function will be delivered as new function APARs for the most current release of z/VM.
The viability and prioritization of z/VM new function is heavily dependent on customer sponsorship through the z/VM Council and Sponsor User Program.
New releases (n) contain all new function from the previous release (n-1).
Release n will receive all new function, processor compatibility support, security, and corrective service.
Release n-1 receives no new service, but still receives processor compatibility support, security, and corrective service.
Every release is in service for roughly 4.5 years.
End of service dates are officially announced roughly six months ahead of end date.
Release n-1 will remain orderable through IBM ShopZ and IBM ServiceLink for 18 months after GA of release n.
Recommended Service Updates (RSUs) will continue until release has reached End of Service (EOS).
RSUs will ship more frequently earlier in the release life cycle.
Release background
For years, new enhancements to the z/VM product were only available by installing a new release. If a z/VM customer wanted a particular new feature, they would need to upgrade to the latest version of z/VM in order to access it. This methodology led to long wait times between releases, typically 3-4 years, while multiple features were being developed and tested. Release dates varied significantly due to development and test cycles that were based on the complexity of the new features. This variability in the release schedule made it difficult for z/VM customers to plan product migrations.
Having new function tied to a release date also meant there was no flexibility in the schedule. If additional schedule time could improve an item based on customer feedback, that couldn't be done as easily in a rigid release schedule. So those improvements would be delayed years for the next release, or perhaps never make it in the product. particular enhancement could benefit from an added or changed feature, the schedule could not be changed to accommodate this. That resulted in enhancements being shipped that fell short of customer expectations and it was unpredictable when, or if, the follow-on work will ship.
In 2018, the z/VM 7.1 release adopted a Continuous Delivery model, which makes new function available through the APAR/PTF service stream. From z/VM 7.1 onward, releases will be scheduled every two years giving customers insight on how to plan their product upgrades. Releases will now primarily roll-up the service and new function enhancements made available between the previous release and the new release. Occasionally, there will be new function that is part of a new release. This is usually due to the complexity of the new feature, alignment with new IBM Z hardware, or a compliance concern. The latest release will then receive new enhancements through the service stream for the next two years.
Service implications
IBM will service and support two versions of the z/VM product. Customers can either choose to install the latest version of the product, which will be enhanced with new features through the service stream for two years. Or customers can choose to stay back on the previous release. Remaining on the previous release is a prudent choice for customers that value predictability and stability over bleeding edge new function. New function will only be made available on the current release, and will not be available or supported for the previous release.
Timeline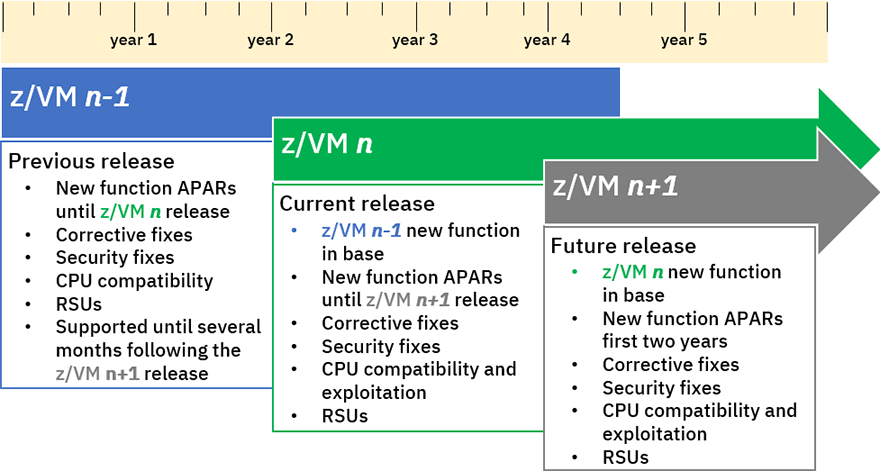 The above graphic is a depiction of the z/VM product lifecycle for three non-specific z/VM releaess across a period of six years. In order to translate this to the current z/VM release, substitute the current version and release in place of n.
z/VM continuous delivery presentation
Bill Bitner explains the z/VM continuous delivery model, and the service and support structure for the z/VM 7.1 release. z/VM 7.1 was the first release to adopt the continuous delivery model, but the information presented in the video helps reinforce the details found on this page.