Tim Greer's Home Page
Greetings. See my page introduction if you are interested. The prettiest pictures here are my favorite fractal creations. (The fractal animations are no longer available through this site.) Full mathematical details are available through the links below.
Here are some papers I have written.
I have degrees in three different subjects from three different schools. The most recent is an M.S. in Math from Georgia Tech. I don't get to use math in my work nearly as much as I'd like, so I look for applications in everyday life. Here are some examples.
Several of my packages are in the VM Download Library :
IBM folks may also access my Software Testing Symposium papers and tutorials on other topics on my internal page. But you can't link there unless you are inside the IBM firewall. Sorry.
If you haven't seen enough about fractals in the above links, take a look at St. Martins Press's book Fractal Horizons: The Future Use of Fractals (edited by Cliff Pickover), for which I wrote chapter 8. And after visiting all these other links, don't miss the riveting prose of my U. S. patents: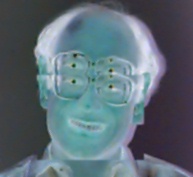 Around here, we like to do experimental nuclear physics...