Jacob Gagnon's Home Page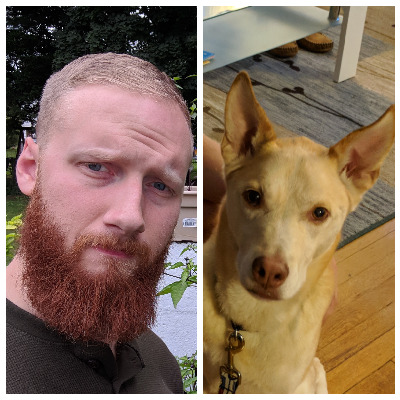 My IBM Life:
I began my career with IBM on June 1st of 2015. Yes, there is no need to recheck your math because your conclusions are correct; I am a millennial mainframer. I have worked my entire (albeit short) career to date in the RCPU area working on the z/VM scheduler/dispatcher.
Publications:
My life outside the office:
There are several things that occupy my free time, two of those things can be seen in the mugshot above. First is my passion for facial hair. Those that know me can tell you that I am always adapting my beard styles in an endless attempt to keep people guessing. Second is my love of man's best friend. Pictured above is my rescue pup Cody (we bear a striking resemblance I know).
Contact Information:
If you'd to reach me to talk life as a millenial z/VM developer feel free to send me an email at jpgagnon@us.ibm.com.